24 Months 0% Installment Exclusives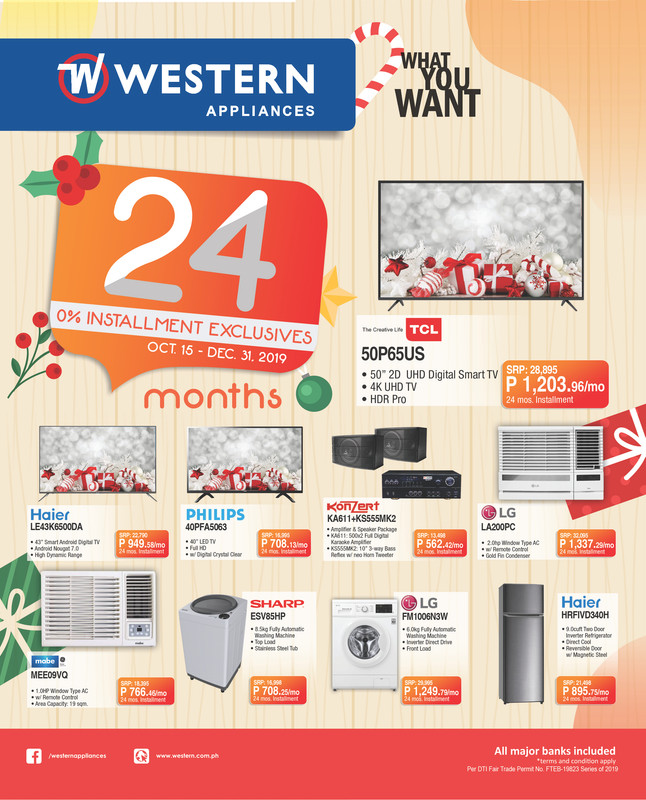 24 Months 0% Installment Exclusives
Mechanics:
Promo period is from October 15 – December 31, 2019.
The 24 Months 0% Installment Exclusives promo is open to all active principal and supplementary credit card holders of the participating banks provided that they are in good credit standing.
To enjoy the "24 Months 0% Installment Exclusives" Promotion, cardholder must reach a minimum single receipt 0% installment purchase requirement of Php 3,000.
Only the selected items and models indicated in the communication materials are included in this promotion.
The 24 Months 0% Installment Exclusives promotion is still subject to bank approval and shall apply if the total outstanding balance is paid in full as per bank policy.
All transactions must be made only within the promo period.
All installment purchases are subject to the terms and conditions governing the issuance of credit cards and the related provisions of the installment program.
Promo is not valid in conjunction with other ongoing Western Appliances promotion.
Participating banks: BPI, BDO, Metrobank, Citibank, EastWest, RCBC, PNB, Security Bank, AmEx, Equicom, HSBC, Unionbank, Bank of Commerce & Maybank.